Insurance Claims

Insurance claims are our specialty here at Angelo's Auto Body, Inc. Dealing with an insurance claim does not have to be a stressful experience. Our expert front office staff is trained to handle all aspects of the claim process on your behalf, including assisting in filing claims, arranging and managing rental cars, going over repairs with your insurance carrier, and making sure that your vehicle is efficiently returned to pre-accident condition. In short, we strive to handle all the details so that you don't have to, so that your overall experience is a positive one.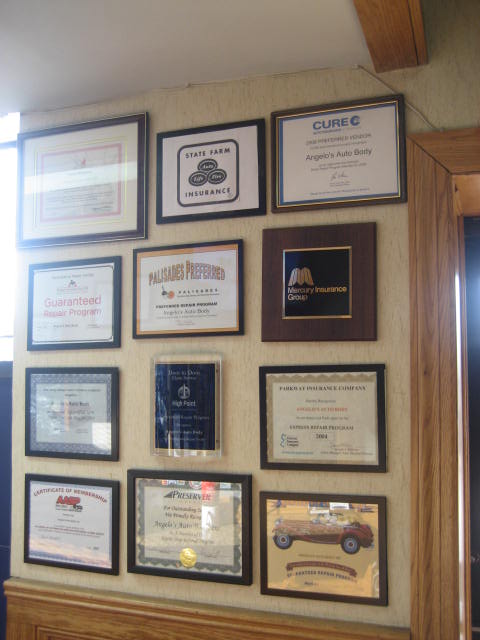 Not all insurance is the same, and the truth is that some companies are better than others. We are committed to giving you the best possible repair and we work with all insurance companies to make this happen. If your insurance does not fully cover all parts and procedures that we feel are needed to fully and safely repair your vehicle, we will notify you up front. The decision as to who you buy your auto insurance from is an important one. If you have any questions when purchasing insurance, feel free to give us a call.
We are presently an approved repair facility for over 12 major insurance carriers. As a result, in most cases we are able to handle all aspects of the claims process, including estimating and repairs, without delay. This speeds up your repair process, often enabling you to simply drop your vehicle off after an accident, and pick it up a short while later after repairs have been completed.
Your insurance company may direct you to an "approved" shop to speed the overall repair process, or they may do so in order to control their costs. You have the CHOICE of where to have your vehicle repaired. Choose your repair shop very carefully, as the quality of the repairs can vary greatly from one shop to another. If you do not have a shop that has done good work for you in the past, ask a friend or neighbor for a recommendation rather than asking your insurance company. A quality body shop will be clean and organized, will have a professional staff, and will provide a written guarantee on all repairs. That shop should be committed to expertly fixing all your damages, and to dealing with your insurance company to ensure that they pay for all necessary parts and procedures. Angelo's Auto Body is just that shop.